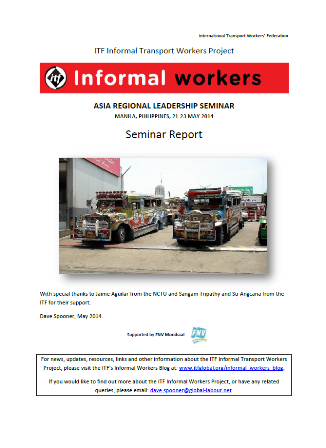 Many thanks to everyone who participated in the Asian Regional Leadership Seminar last month (21st-23rd May). The seminar was a great success with particular thanks going out to Jaime Aguilar and his comrades at the NCTU, the project mentor union in the Philippines, which hosted the event.  You can download the report of the seminar below. Participants are warmly invited to correct any mistakes or suggest improvements!
We apologise for the report being in English only, for the present at least.
****
[Google, FR]
Un grand merci à tous ceux qui ont participé au séminaire de leadership régional pour l'Asie le mois dernier (21 au 23 mai). Le séminaire a été un grand succès avec notamment grâce sortir de Jaime Aguilar et ses camarades à la NCTU, le syndicat de mentor du projet aux Philippines, qui a accueilli l'événement. Vous pouvez télécharger le rapport du séminaire ci-dessous. Les participants sont cordialement invités à corriger les erreurs ou suggérer des améliorations!
Nous nous excusons pour le rapport étant en anglais seulement, pour le moment du moins.
***
[Google, ES]
Muchas gracias a todos los que participaron en el Seminario Regional Asiático de Liderazgo mes pasado (mayo 21-23). El seminario fue un gran éxito con un agradecimiento especial va a Jaime Aguilar y sus compañeros en el NCTU, el sindicato mentor del proyecto en las Filipinas, quien fue el anfitrión del evento. Puede descargar el informe del seminario de abajo. Los participantes están invitados a corregir cualquier error o sugerir mejoras!Pedimos disculpas por el informe es sólo en Inglés, por el momento, al menos.