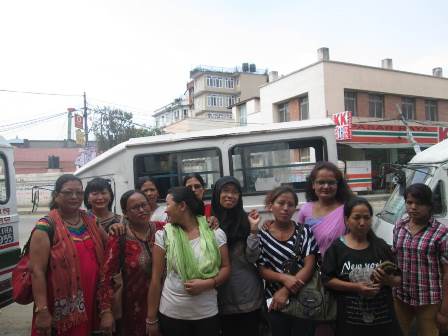 Women activists from Nepal, India and Indonesia successfully completed their training workshop in mapping informal women transport workers last week (25-27 June), having learned much from their Nepalese union hosts about how informal women transport workers can organise. Half the women were themselves drivers or other informal transport workers.
The event was jointly hosted by the ITF project 'mentor unions' in Nepal,  the Independent Transport Workers' Association of Nepal (ITWAN) and Nepal Transport Labour Association (Nepal Yatayat Mazdoor Sangh) (NETWON), both of whom have successfully organised hundreds of women drivers, particularly the numerous 'tempo' three-wheeled, battery-powered vehicles that can accommodate up to 10 people, and form the backbone of urban transport.
Participants mapped and analysed the women workers at the tempo stands in Kathmandu, before discussing how it related to their own organising experience. The workshop ended with presentations of detailed plans for mapping and organising in all three countries.
A full report will be soon published here on the blog.