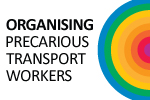 Last minute shift changes, casual contracts, agency fees, poor wages: sound familiar?
These are just some of the issues being faced by precarious workers in the transport sector. Precarious workers now make up around 50% of the transport industry workforce. These are women, they are young workers; categories of workers we can't ignore if we want to win the battle for decent working conditions for all transport workers.
That's why the new precarious workers' booklet has been produced; to help us to inform our unions around precarious work and to strengthen us in the organising of precarious workers.

Download the precarious workers booklet now in English, Arabic, French, German and Spanish. Spread the word about this new resource #precarious workers
We want to reach as many people as possible with this resource so if you plan to translate it further then let us know so we can promote it.
Yes to decent work, yes to organising precarious workers!
Click on leave a reply below to let us know what you think of the booklet and how you've used it with you members.