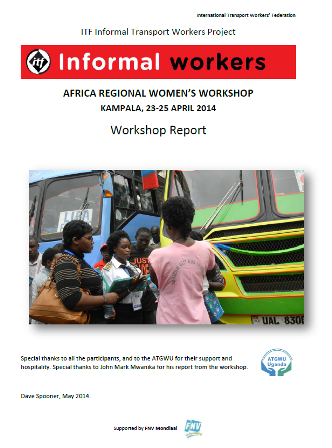 A huge thank you to everyone who participated in the Africa Regional Women's Workshop. Bro Aziz Kiirya, Bro John Mark Mwanika and their comrades from ATGWU, the project mentor union in Uganda, deserve a particular mention for their role in hosting the workshop and making it such a success.
You can download the report of the seminar here and under the Resources heading on the blog homepage. Participants are of course warmly invited to correct any mistakes or suggest improvements!
We apologise for the report being in English only, for the present at least.
***
[Google, FR]
Un grand merci à tous ceux qui ont participé à l'atelier régional des femmes en Afrique. Bro Aziz Kiirya, Bro John Mark Mwanika et leurs camarades de ATGWU, le projet mentor union en Ouganda, méritent une mention particulière pour leur rôle dans l'organisation de l'atelier et d'en faire un tel succès.
Vous pouvez télécharger le rapport du séminaire ici et dans les ressources rubrique sur le blog page d'accueil. Les participants sont bien sûr cordialement invités à corriger les erreurs ou suggérer des améliorations!
Nous nous excusons pour cet être en anglais seulement, pour le moment du moins.
***
[Google, ES]
Un gran agradecimiento a todos los que participaron en el Taller Regional de Mujeres de África. Bro Aziz Kiirya, Hno. Juan Marcos Mwanika y sus compañeros de ATGWU, el sindicato mentor del proyecto en Uganda, merecen una mención especial por su papel en la organización del taller y lo que es un éxito.
Puede descargar el informe del seminario aquí y en la página de Recursos rumbo en la página principal del blog. Los participantes son, por supuesto, cálidamente invitados a corregir cualquier error o sugerir mejoras!
Pedimos disculpas por este ser sólo en Inglés, por el momento, al menos.