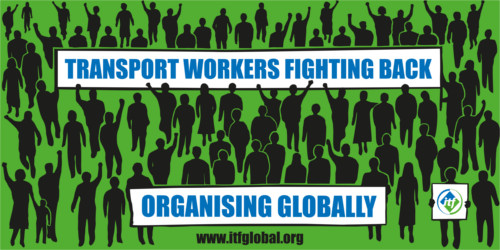 On 6-12 October 2014, ITF road transport and railway unions and their members will come together to take part in the ITF Action Week.
Under the slogan 'Transport Workers Fighting Back! Organising Globally!' unions will organise a variety of activities to highlight important issues that affect road transport and railway workers, and emphasize the importance of being a member of a union.
The Action Week provides an opportunity to highlight and campaign around the issues facing informal workers. Informal workers may not have a voice as individuals, but by acting together and with workers in formal employment during the Action Week in the knowledge that others are taking action, informal workers can bring demands to the attention of authorities, employers and the public, and make their voices heard. It is also an opportunity for unions to reach out to informal workers in the transport economy and demonstrate the benefits of belonging to a union.
For example, the ITF Africa Regional Leadership seminar held in Niamey in March 2014 explored how unions could use the Action Week to reach out to informal transport workers and overall, it was agreed that throughout the region, unions should consider the use of the Action Week to promote road safety and health for informal transport workers, with organising as a focus throughout. It was also suggested that unions use the Action Week as an opportunity to make links with street vendors, market traders and their associations.
… Can your union find out where informal workers are in the transport industry and reach out to them during the Action Week?
… Can your union use the Action Week to highlight and campaign around issues for informal workers in transport?
… Can your union organise an event involving informal workers, to raise awareness among informal workers of their rights and of the role of unions?
Read more about the ITF Action Week and download campaign materials here: www.itfactionweek2014.org
Please keep in touch! … Let the ITF Inland Transport Sections know what activities you are organising during the Action Week so we can share with others and learn from our experiences: inlandtransport@itf.org.uk