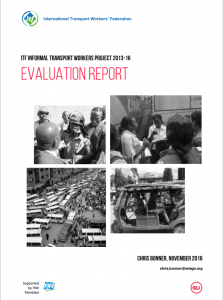 "Organising in the Informal Economy is our Future"
Mac Urata, ITF Inland Transport Section Secretary
The Evaluation Report of the ITF Informal Workers Project, 2013-16, is now available to download here:
Evaluation Report: ITF Informal Transport Workers Project 2013-16 [Nov 16]
The report, prepared by the experienced external evaluator Chris Bonner, provides an overview of the project and its outcomes, and offers an assessment of the project's successes and challenges.
The report highlights how the project has, thanks to the tireless and pioneering work of the unions involved, surpassed expectations with more than 60 000 informal transport workers becoming newly organised or joining a trade union during the 3-year project period.
"It [the project] has made informal workers legitimate. They now belong somewhere in the family of workers"

Dorothy Nandera, ATGWU (project mentor union for East Africa) & ITF Board member
The report concludes with a set of recommendations for the ITF and its affiliates, calling for the continued prioritization of informal transport workers within the ITF family, and their integration into the strategies and activities of the ITF.
Regrettably the report is currently only available in English. French and Spanish summaries of the report will be made available in the near future.