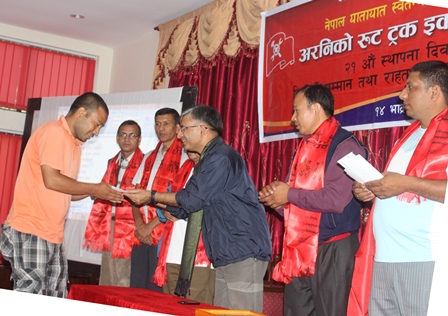 After recent landslides and flooding in Nepal, hundreds of people are reported dead and many more missing. Rural communities have been devastated and roads cut off throughout the country.
In the village of Jure, Sindhupalchuk district, about 120km east of Kathmandu, 49 workers lost their lives and others made homeless in a major landslide. In response, the Araniko Route Truck Local Committee of Independent Transport Workers' Association of Nepal (ITWAN-GEFONT) provided relief materials to the families of transport workers who lost their lives.
The local committee established a relief fund of over 100,000 Rupees (USD 1,000), and a national appeal from ITWAN raised a further 450,000 Rupees (USD 4,500) from local committees throughout Nepal.
At a ceremony in Kathmandu to hand over the relief materials and cash support on 30 August, GEFONT President Bishnu Rimal said "When the state failed to do its duty and provide relief funds to natural disaster victims, ITWAN and Araniko Route Truck Committee set an example of humanitarian practice done from their own initiative".
For further information, contact Bhimjwala Rai, General Secretary, ITWAN – bhimraijwala [at] gmail.com.